Het aanbod zal bestaan uit samples en tijdloze styles uit eerdere seizoenen. Alle collecties. Alle maten. Kortingen oplopend tot 70%. Enkel met gratis ticket.
Meer info
Magazijnverkoop van luxury winter fashion tegen extreem lage prijzen! Seizoensrestanten & Samples met een groot aanbod in meerdere maten. Nu kortingen tot 80% korting! De voorraad zal ieder uur worden aangevuld zolang de voorraad strekt. Merken: Van Santen & Van Santen (heren), L'Argentina, La Gauchita, Scarva Wanneer? Donderdag 27/09/2018 (17.00 - 20.00 uur) Vrijdag 28/09/2018
Meer info
Sample sale van de nieuwe herfst collectie 2018 van het merk Drykorn voor man en vrouw. Damesmaat is van small tot medium. Heren- medium tot large. Toegang enkel na inschrijving:
Meer info
Sample sale van kleding voor dames. (herfstcollectie) Kortingen tot -50%
Meer info
Sample sale van de merken Plein Publique , Bag to the future en Coisa
Meer info
Atelier des Femmes Sample Sale Come and find some beautiful treasures with some serious discount. Sunday September 23 12.00h till 17.00h The Diamond Factory Nieuwe achtergracht 102 1018WT Amsterdam
Meer info
Sample sale van schoenen, kleding, accessoires en snowboard gear van Etnies, Emerica, Altamont, ThirtyTwo en éS. Er zijn vooral items beschikbaar in sample maten maar andere maten zijn ook beschikbaar. Sample sizes: Mannen: kledingM / L / 32 en schoenen maar 9 (42) Dames: schoenen 7 (37.5) Kids: schoenen 2 (34)
Meer info
Sample sale bij Bulthuis Agenturen.
Meer info
Shop unieke items uit vorige collecties aan kortingen tot -70%. Turasnu verkoopt handgemaakte en fairtrade kleding, accessoires en decoratie items uit Zuid-Mexico.
Meer info
Sample sale van meer dan 75 fashion labels voor dames en heren. Betalen kan enkel cash. Entree: €5. Gratis parkeren
Meer info
Sample sale van CHEAP MONDAY, SANDQVIST & BASIC APPAREL tijdens de Amsterdam Noord sample sale. De samples komen uit de lente/zomer 2018 collecties en vorige collecties. Je vindt er kleding voor mannen en vrouwen, tassen en accessoires
Meer info
Het is tijd voor de volgende editie van Sample Sale Amsterdam Noord. Ook deze keer ben jij van harte welkom om naar hartelust en tegen de beste prijzen Samples te komen Shoppen in meer dan 15 showrooms. claim nu jouw gratis entreebewijs
Meer info
Tijdens Sample Sale Amsterdam Noord houdt Kings Of Indigo ook een sample sale. De sample maten zijn: Dames jeans: 27/32 en dames kleding: S Heren jeans : 32/32 en heren kleding : M Er zullen ook andere maten beschikbaar zijn maar de overgrote meerderheid zullen sample maten zijn. Schrijf je in voor Sample Sale Amsterdam Noord via deze
Meer info
Sample sale van Josh V. Kortingen tot -80%. Je vindt er oa samples die nooit gereleased zijn, Lente '18 collectie, Party '17 collectie en herfst/winter '17 collectie. Betalen kan enkel met PIN.
Meer info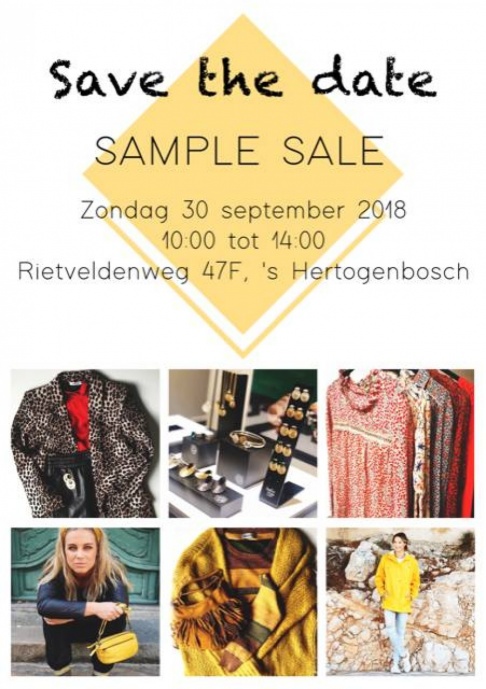 Sample sale van 1 Roof and Dumoulin Fashion Agency.
Meer info